.
Who We Are?
.
4prόodoς is changing the way people work. By placing a service‑oriented lens on the activities, tasks and processes that make up day‑to‑day work life, we help the modern enterprise operate faster and be more scalable than ever before. As an agnostic model delivery enterprise company, 4prόodoς provides on-premise or a service model that defines, structures and automates the flow of work, removing email and spreadsheets from the process to streamline the delivery of services.
And nearly everything can be delivered 'as a service' in 4prόodoς. A system where people, across the enterprise, engage to get work done. To rapidly create new services, deliver the services at record pace, and more importantly – manage the services.
Performance Management is a discipline for the entire enterprise. With roots in IT, the 4prόodoς service management solutions address several service domains of modern enterprises including Contact Center, Field Operations, SalesForce and Back Office. 4prόodoς started it for themselves, then went on to prove it is possible to apply this Performance Management to use cases outside of us. And by doing so, successfully deliver a modern service experience..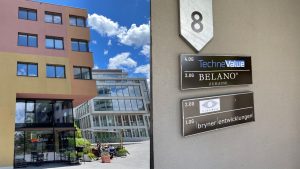 .
4prόodoς is part of TechneValue GmbH. TechneValue is a young and dynamic entrepreneurial venture for providing efficient Consulting practices. Our innovative benefits specialists provide solutions through a multi-disciplinary qualified professionals. TechneValue leverages on the expertise of its founders as well as of its independent consultants who are premier professionals with several years of industry experience across various sectors and EMEA locations. Through our broad based knowledge and vast resources we create winning solutions for our clients and their employees.
Find out more about TechneValue here.